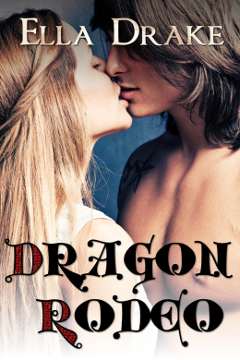 Dragon Rodeo
Fantasy Erotic Romance
short story (ebook)
alternate dimension/Fantasy.
published by Ella Drake
series: stand-alone
2012
Drawn to her local museum, Kellie can't keep away from a certain compelling painting. The oils seem real and the scent of the scene, nearly tangible. When the artist approaches her, his touch sends them into a world of fantasy, of dragons. Their passion ignites and reality blurs. Rand, the intriguing bronc rider, is hers, if only she learns how to keep him.
Temporarily out of print.