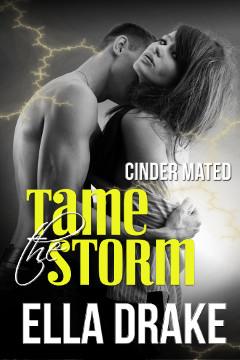 Tame the Storm
Erotic Paranormal Romance
Novella (ebook)
Cinder Mated #2
published by Ella Drake
series:
Cinder Mated
2013
Storm mage Griffin Cinder rescues a lost para-talent after a mission leaves victims in its wake. His urge to protect her is overpowered by his need to claim her, but he can't. Astrid Collins is a syphon. Someone he can't have, no matter how much his body wants hers. Even one fingertip trailing down his body could strip him of his powers, but what a way to go.
Astrid intends to betray the Cinder Task Force. If the storm mage has the hots for her, it's that much easier. Except, she starts to like him. Want him. Badly. As much as she wants him, their lust will ruin her plans, not to mention hurt them both. Just one kiss. That's all she needs.
But then the storm breaks, plots crash down, and all that's left is to touch—even if it kills them.